Reunion Grounds and Accommodations
Reunion's plant-led, healing-first credence permeates the center's breathtaking grounds.
From the dragonflies fluttering around the glistening Buddha sculptures to the deeply caring facilitators, guest relations contributors, and miracle bodyworkers, every being and element seemed touched somehow by divine mushroom intelligence. 
I felt endlessly at ease walking the grounds throughout the week.
Simultaneously, I was grateful for the convenient amenities allowing me to escape the heat.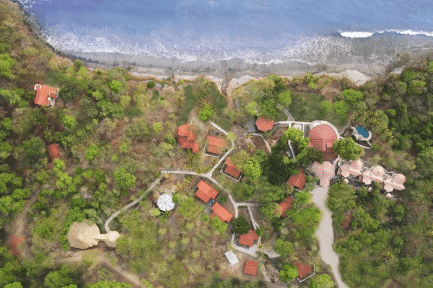 Reunion inhabits the former Sugar Beach Resort, featuring eco-luxe accommodations that balance comfort with sustainability.
A/C comes standard in every room (eureka). TV does not. And Wifi works well on the grounds for those who need it. 
No coffee, red meat, cheese, or sweets appear onsite per the dietary preparation guidelines. But Reunion's talented chefs prepared fresh, nourishing dairy-free, gluten-free, and soy-free meals that almost made me forget my dairy-full and caffeinated existence.
I missed my favorite vices, like red wine, cheese, and The Last of Us. But Reunion's nutritional offerings, daily movement and meditations, and TV detox were critical practices for the intense ceremonies ahead.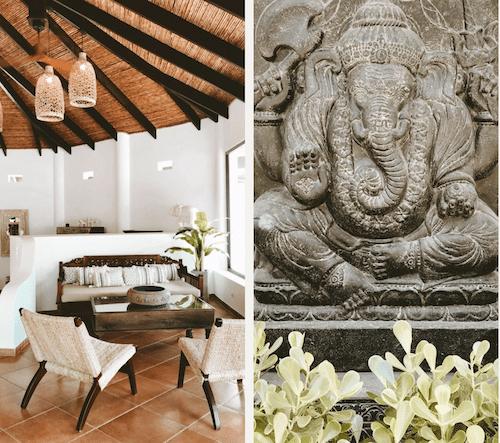 Reunion Ceremonies
With my mind and body mostly free of toxic content, I was ready to dive into a week of intensives. 
Reunion's Inner Alchemy retreat consisted of five ceremonies.
One breathwork ceremony
Three psilocybin ceremonies
One cacao ceremony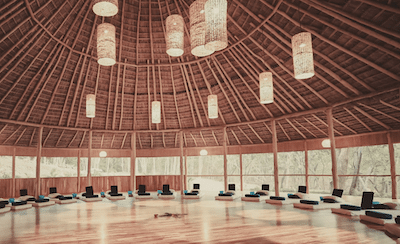 The Breathwork Ceremony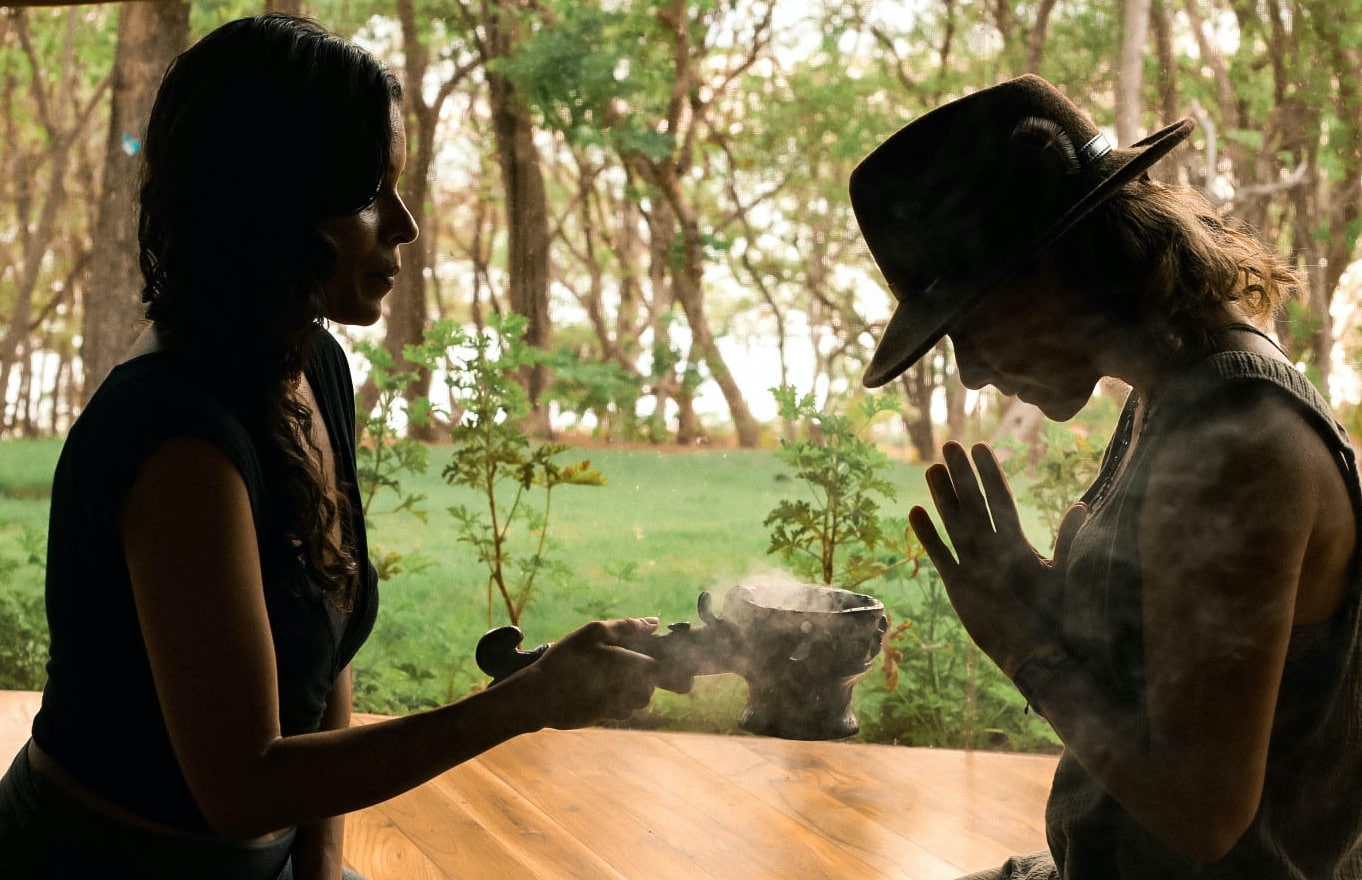 I didn't know my breath could be a psychedelic substance until I lay down in Reunion's temple (called a maloca) and let Karina guide me to an oxygen-fueled altered state of consciousness. 
For about 30 minutes during the ceremony, Reunion's maloca was quite literally breathing as every individual embarked on their own internal journey.
I personally experienced the phenomenon known as tetany for the entire session. My extremities curled and cramped into what felt like a muscular malfunction. 
Scientifically speaking, rapid breathing can cause drops in blood CO2 levels that constrict the veins and cause tetany's signature "lobster claws." 
Psychosomatically, tetany could also indicate built-up tension that needs to be expressed.
I didn't know it at the time, but the latter was certainly true.
The First Inner Alchemy Psilocybin Mushroom Ceremony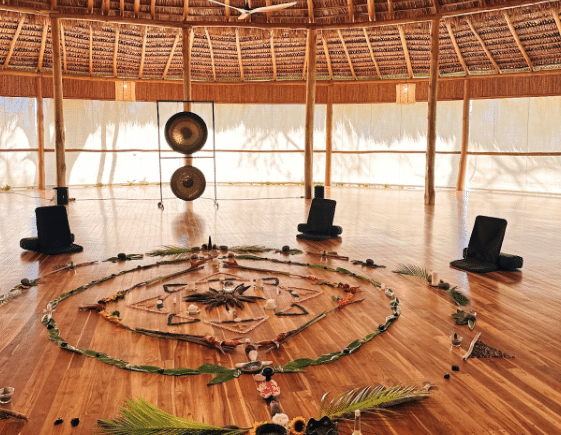 After utilizing breathwork to ease the group into psychedelic experiences, Reunion's facilitators organized an introductory psilocybin ceremony.
Each participant received one gram of psilocybin tea consisting of dried shrooms, herbal antioxidants, and warm water, with the option to consume up to an additional 0.5 grams later in the ceremony.
The facilitators called it a "handshake dose," as approximately 1.5 grams is enough for people to connect with the medicine beyond ordinary waking consciousness. But it's typically not enough to transcend time and space.
Most participants had never journeyed with psilocybin before this moment, so starting with an approachable dose was essential from an objective standpoint. However, from a subjective perspective, I struggled with the neither-here-nor-there dose.
My managerial mind wouldn't shut off, despite my desire to relax into the viscerally soothing sensations. And I was keenly aware of the blistering heat despite the industrial-sized fans circulating overhead. I felt uncomfortable for most of the journey, but in the end, I experienced a profound nugget of insight that helped release a lifelong insecurity.
The Second Psilocybin Mushroom Ceremony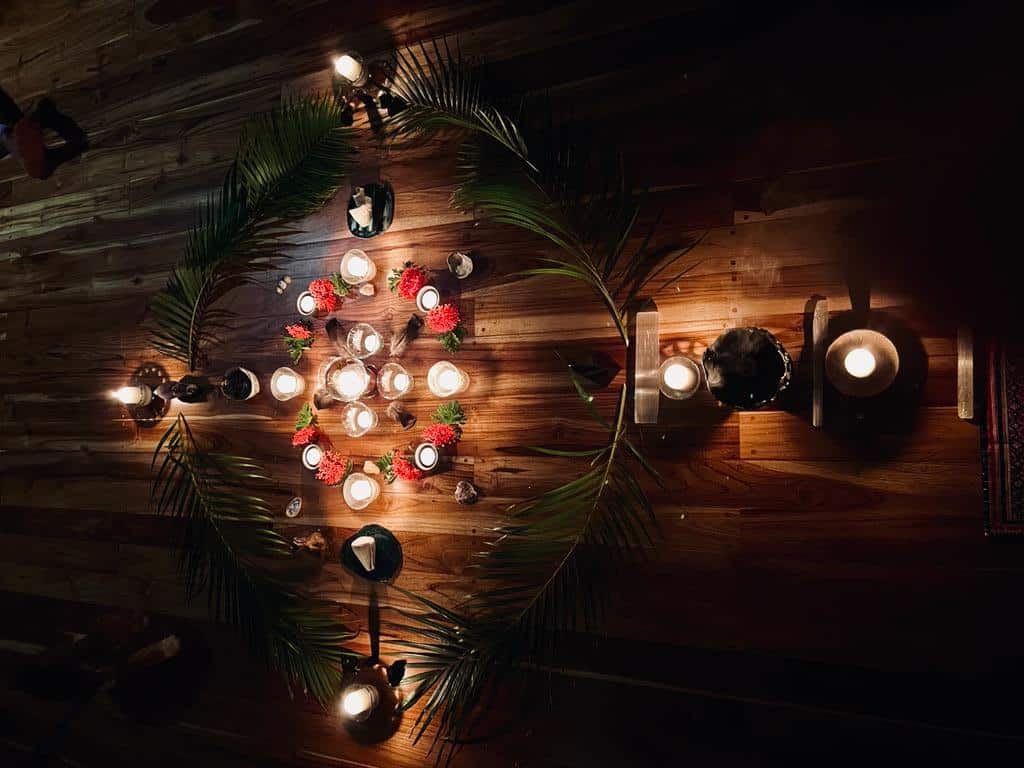 After the first journey, each participant met with the facilitators to discuss the experience and determine the right dose for the next intensive the following day. This approach was not one-size-fits-all. It was highly personalized to meet our needs.
Reunion's second psilocybin ceremony was about diving deeper into the subconscious mind, body, and soul to the extent that everyone felt comfortable. 
It took place at night. And the temple was black, except for the candles that illuminated the sacred altar.
I felt a heaviness entering the maloca that evening, a sense of gravity, and most of all, a deep reverence for mushroom wisdom. Looking around the room at my fellow journeyers, I lay down on my mattress, drew a face mask over my eyes, clutched my blanket, and awaited the medicine. 
That night was incredibly challenging as my fiercely independent will struggled to ask for help, feel my feelings, or look weak in front of others. But when I finally surrendered, requesting support from the mushroom, my higher Self, and the facilitators, my consciousness finally opened up to the experience. 
I spent the rest of that night shattering nearly every story I've ever believed about myself. It was both horrifying and indescribably freeing because it allowed me to start rebuilding from a blank, authentic slate.
The adventure reminded me of something Julian said earlier in the week:
Metaphorically, mushrooms break us down to create a fertile soil for growth.
The Third Mushroom Ceremony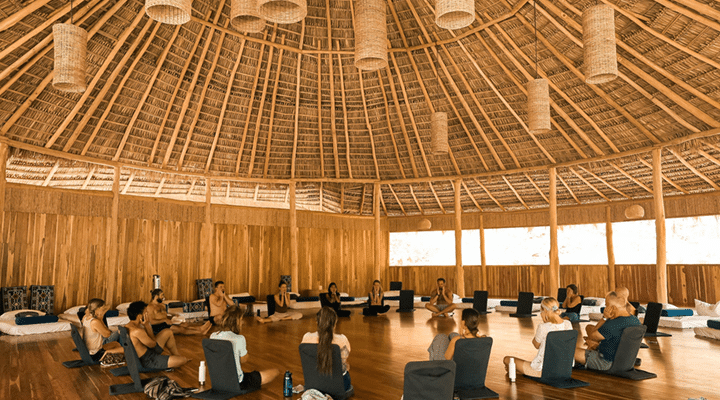 I won't say too much about the last mushroom ceremony.
But I will say the facilitators crafted an incredible five hours of prayer, music, and levity that brought the week full circle for me. 
I felt intensely present, even ego-less in moments. I also felt the deepest gratitude and love for my life, family, friends, and planet. 
Professional insights arose later in the day. But I'll keep those to myself for now as the integration process unfolds.